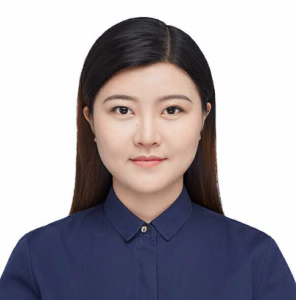 Qian Zhao 赵倩
Foreign Language Teaching Assistant (FLTA)
Phone: 571-342-2323
Email: zqsophie@126.com  qzhao@wooster.edu
Employment: China University of Mining Technology (Beijing) 2014:
To teach Chinese students College English Courses
Education:
M.A Beijing Foreign Studies University 2012
B.A. Beijing International Studies University 2008
Interests:
Language study and intercultural studies.
Statement of Purpose
My eagerness to get to know more about American culture and desire to sharpen my teaching skills are the main reasons for why I am applying the FLTA program. I started my teaching career four years ago after I graduated from Beijing Foreign Studies University, a prestigious university in the field of foreign language teaching and research. In my past teaching experience, I have increasingly found that my students are not just satisfied with English language learning but get more interested in culture-related content in English language, and they indeed get more involved in class if I cover such topics. Their feedback echoes my ideas in English language teaching that English teachers should not only teach language points but also should introduce culture that deeply rooted in the language. Hence, they've known "Rosa Parks" in a passage about the "Underground Railroad", "Trump's Mexico Wall" in a passage covering globalization and many more…My students have become more interested in English now and they have known English is not just about boring grammar and endless new words. In English, there is a whole and different new world.
The best way to get to know a country and its culture is to travel and live in the country. It's a great pity that as an English teacher, I've never studied, lived, or even traveled the U.S.A. I believe the FLTA program would be an excellent chance for me to experience American culture and thus I can share more with my students in the future. And I want to apply for the program also because it would be a chance for me to absorb more scientific and interesting teaching methodologies and techniques and benefit my students.
I believe my strong cross-culture communication abilities, my adaptability to new environment and my open-minded personality set me apart from other FLTA applicants. Since college, I've volunteered or been employed as interpreter by companies, public institutions and universities. For example, I provided interpretation service on The Eighth International Symposium of Traditional Culture and Ecological Civilization and I assisted the reception and arrangements of the international guests during the event. My culture awareness when dealing with the foreigners and my good interpreting abilities impressed both the employers and international guests. I believe my experience in cross-culture communication will distinguish me as the candidate of the program.
I am also easily adaptable to new environment and I am independent. Two years ago, I traveled to the U.K. for about half a month by myself. Despite being a total stranger in this country, I arranged my trip well and traveled many cities. This was my first time that I actually traveled abroad alone and I have to say the Scotland accent is so difficult for me to understand. I enjoyed the trip a lot and it was enjoyable to embrace a new culture. And about five years ago, when I was a graduate student, I joined a volunteer teacher program and went to Huai'an City, an underdeveloped area in Jiangsu Province, to teach the high-school students English. The teaching equipment and living conditions there were not satisfying. We even could not take hot showers during the summer time. But I was optimistic about everything and overcame every difficulty I met. I built inspirational and close relationships with the students there, and we've kept in touch till now. This experience was so precious that it made me seriously consider teaching as my life-long career.
Another thing that sets me apart from other candidates would be my open-minded personality. I always like sharing. If I am lucky enough to be a FLTA, I will share a lot about my country, my language, and my culture. And I also like getting to know people and cultures from other countries with a curious mind and a sincere heart. In terms of my academic background, I received six-year formal education in English and English Interpretation from two famous universities in the field of language teaching and research (Beijing International Studies University and Beijing Foreign Studies University), which provided me a solid foundation in English.
In addition, I passed the exams and received High Education Teacher Qualification in 2015. My real-life experience in teaching career enables me to employ the best methods possible when dealing with my students and gives me confidence in the assistantship of the FLTA Program. My career goal is to become an inspiring and professional English teacher, who serves the role of a culture-exchanger essentially. And I also want to be a bridge between China and western world, to introduce the culture of China to outside world and vice versa by means of communication, research and others. I believe the FLTA program would be a valuable opportunity in my teaching career. If I am given the chance, I will make the best use of it. Thank you for your consideration!